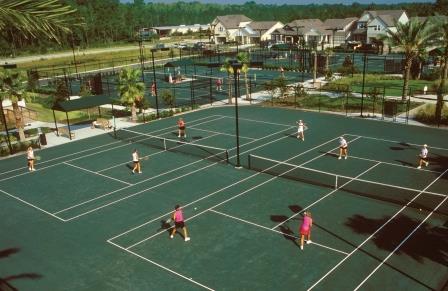 Palencia Enhances Tennis Program with Addition of New Pre-Shop Facility
Palencia will begin construction this summer of a new tennis pro shop. It will enhance Palencia's strong tennis program and is scheduled for completion in the fall of 2015. With 10 lighted Har-Tru tennis courts and three staff tennis professionals, Palencia is home to a vibrant tennis program that hosts 20 competitive club teams that range from the A through D levels, a popular junior program and USTA competition leagues.
The new pro-shop is being constructed by Marshall Creek, Ltd and Hines, Palencia's master developer, and will be owned and managed by the Marshall Creek CDD for the use of all residents within the District. "We are looking forward to the construction and completion of the new tennis facility at Palencia," said Walt O'Shea, Hines' Managing Director. "Our tennis program is extremely popular with both residents and members of the surrounding community, and the pro-shop will be a welcome addition for our staff and member participants."
The Palencia tennis program is one of the strongest in the region, with ladies' and men's programs, a junior program for ages four through 17. The program hosts numerous events throughout the year, including USTA Junior tournaments that draw approximately 100 participants from ages eight through 18. Palencia has also partnered with local middle schools, including Pacetti Bay Middle School, allowing the schools to hold tennis practice at the Palencia facilities and providing pros to help train the students.
One of the most popular tennis events is the community's adult charity tournament. Each spring, the tennis program selects a charity and donates the proceeds of a three-day tournament to the selected organization. "We train hard, but we also like to have fun and give back to our community," said Tom Salmon, Director of Tennis for Palencia. "Over the past four years, through our charity tournament, we were able to donate more than $45,500 to Camp Boggy Creek – a camp for seriously ill children that was started by Paul Newman and General Norman Schwarzkopf. We also host quarterly themed socials for adults, which have a great turnout and are a wonderful way for players to meet and play with different people. Our program is successful and continues to grow, and we are thrilled about the new pro shop and an enhanced ability to offer merchandise and tennis gear.