4Palencia Interest Groups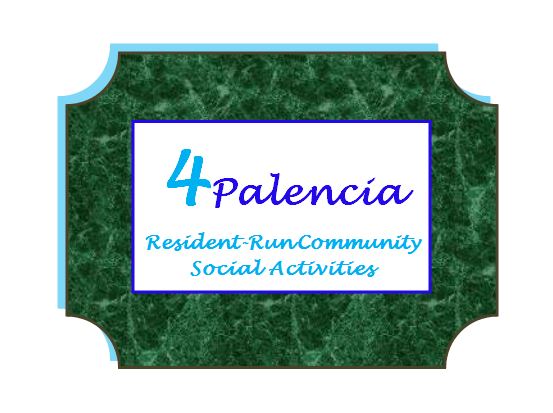 4Palencia, an endeavor recently organized by Palencia resident volunteers, is an effort to provide more and varied social activities in our community. To get this project up and running, a group of residents met in March to identify areas of interest to Palencia residents. For a first offering, the group settled on the 9 groups listed below.
4Palencia groups are intended to promote social opportunities and active community participation. Each of the 9 groups has at least one volunteer to act as its "start-up" facilitator and to run the first meeting. This will be an opportunity to discuss how the group will be organized, select meeting dates/time, etc., and define what the group wants to do. 4Palencia encourages all groups to discuss ways to share responsibilities so the group is enjoyable for everyone. A group is what its members want it to be!
---
4Palencia groups are open to all adult Palencia residents. Suggestions for additional groups are welcome. Please send suggestions to 4Palencia@gmail.com.
To help us reach as many Palencia residents as possible, please share this "News Flash" with your neighbors and direct them to palenciaonline's home page. If you encounter anyone unfamiliar with palenciaonline, ask him/her to contact 4Palencia@gmail.com for assistance.
It is important that everyone register at Palenciaonline.com, our community website. 4Palencia intends to use our community website- Palenciaonline.com.- as the interest groups' "information center" to provide updated information as groups become organized and active. Check Palenciaonline.com home page frequently.
---
Welcome/ Hospitality
Travel Club
Couples Dining Out
Film/Dinner Club
Coed Events
Garden Club
Mystery Book Club
Pick Up Basketball Games
Recipe Swap
Crafts/Games
Tuesday Walking Group
To join a group or ask questions about a specific group, click on INTEREST GROUPS on the chart above for facilitators' contact information. Send an email to one of the contact persons for any group that you would like to join or if you want to attend the first meeting.
FYI- To access the names of group facilitators and email address, you must login at palenciaonline.com

NOTE- You must be registered at palenciaonline to login. If you have a question or problem with registering, please send an email to 4palencia@gmail.com