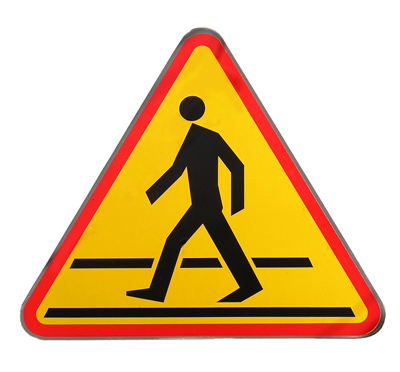 Pedestrian Crossing Signage
The Marshall Creek Community Development District Commissioners had been asked by a few Avila residents to add In Street Pedestrian Crossing signs to the pedestrian crosswalk that Avila residents must use when crossing Palencia Village Drive.
The Commissioners engaged Prosser Hallock, a planning and engineering consulting firm, to analyze the problem and report recommendations to the Commissioners. Prosser Hallock recommended not to install In Street Pedestrian Crossing signs due to merging and lane changing issues at that location on the Drive, but they did lay out four alternatives.
Alternative One is the installation of additional downward pointed arrow signs to the current Pedestrian Crossing sings.

Alternative Two involves installing additional Crossing signs and downward pointed arrows in the median.

Alternative Three involves restriping the crosswalks with 24" diagonal stripes AND restriping the current 12" stripes.

Alternative Four involves resigning the crosswalk as in Alternative One and adding a Stop Sign at the crosswalk.
At their January meeting, the Commissioners seemed willing to implement Alternatives One, Two and Three. Two areas of potential interest should be noted. One, the cost of the signage will come out of the CDD fees that we already pay and will not require any additional financial input from Avila residents. And two, Prosser Hallock has stated publically that there is no proof that the signage will change the driving habits of motorists using Palencia Village Drive.

Please forward any thoughts, comments or concerns that you may have to me and I will relay them to the Commissioners.

James McAllister
Vice President of the Avila at Palencia Master Board
jamesandrewmc@gmail.com