Wildlife Sightings in Palencia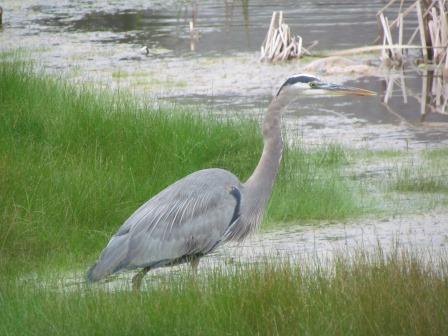 I live in the back off Las Calinas Blvd and took this picture on the bank of our pond. When I downloaded it to my p/c I thought I was seeing things when I saw the "2nd" bird markings at the bottom of it's neck. If you zoom in it looks like a baby bird. Nature is amazing.
Jo Anna
---
These sightings were in Avila around the pond in back by Karen Sands.
#1 is a little blue heron spotted Jan 10, 2016
#2 is a gator spotted in July 2015
#3 is a Tricolored Heron or snake bird spotted August 2015 and several times since
#4 is a Tricolored Heron- also spotted many times
#5 is an otter. there were 2 playing and having so much fun. I was only able to get one photo before they took off
#6 is a merganser duck spotted the end of Dec 2015 and seen several times since
#7 is a juvenile white ibis spotted Sept 2015
#8 a muscovy duck and I spotted it at the pond by the pirate ship park in august. the duck can still be seen there on a daily basis.
#9 is a double crested cormorant
#10 is a snowy egret in March 2016
#11-12 is a Wood Stork in March 2016
#13 is a Great Blue Heron in March 2016
#14 is a spotted sandpiper in April 2016
#15 is a little blue heron in 1st spring phase. born all white, this one is turning blue and in a couple of months he will be all blue with a purple neck in April 2016
#16 is a great egret in April 2016
#17 is a little blue heron in April 2016
#18 is a fox in Village Lakes taken by Teri Stubbs
---
| | |
| --- | --- |
| | |
Click Here to view a photography article written by Palencia resident Bob Thompson.
The photos above were taken by Bob Thompson.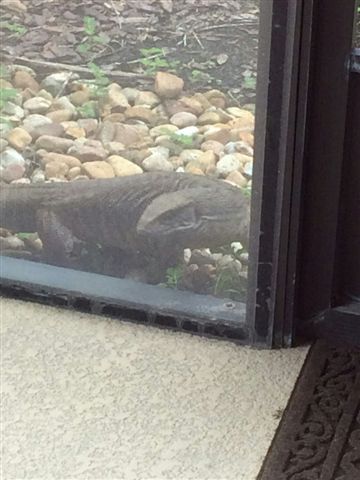 Lizard spotted at Avilia during the week of August 28th.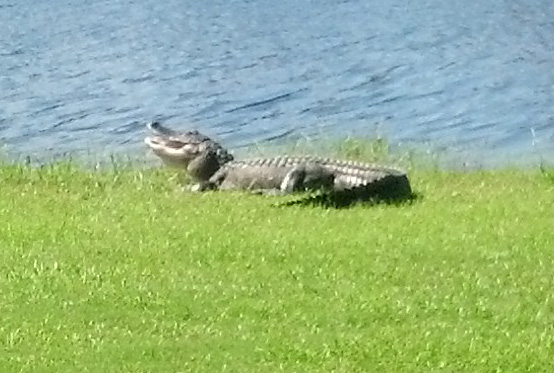 Alligator
This alligator was spotted near the 9th hole of the Palencia Golf Course. Fortunately it was docile enough to allow a picture to be taken. Let us know if you get any more shots of him/her and we'll keep them posted on the site.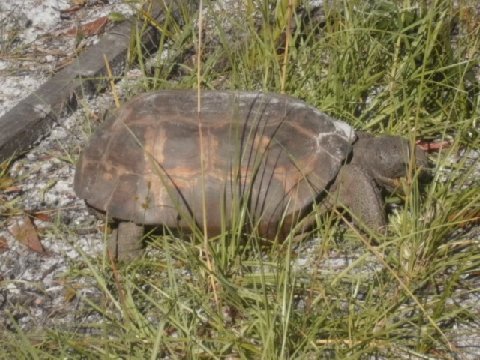 This turtle was found munching on grass in backyard of Medio Dr.
---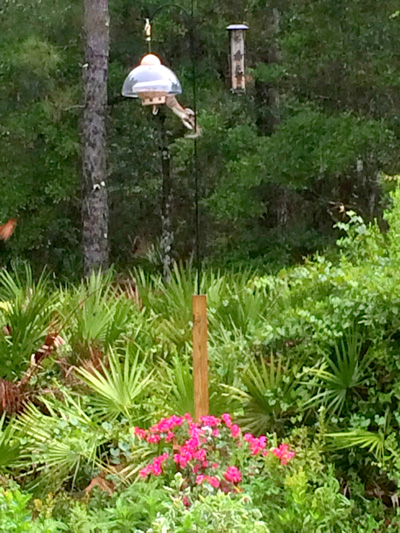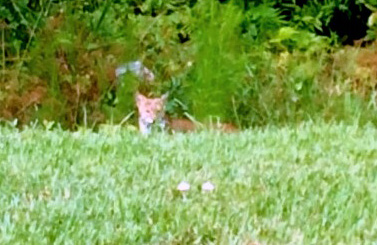 My wife and I had the pleasure of watching the cleverness and agility of a squirrel conquering a 'squirrel-proof' bird feeder.

Soon after, my wife request my attention in a very urgent tone… we watched a bobcat slowly traverse our backyard. Such an elegant and magnificent animal! By the time I got the iPhone, I was only able to capture 3-4 seconds of his presence. Although we are adjacent to the nature preserve, this was not something we had expected to see.

We spotted some humming birds too and appreciate visits from our feathered friends!





Nick & Janice Xynidis
Carmine Lane
---
If you have spotted an animal and you'd like to share your story, please email it to elissa@connecttoneighbors.com.
If you have a photo of the animal, email that too and we'll include it as well.