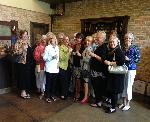 St. Augustine Distillery and Lunch at Ice Plant Restaurant.
Click on the picture to
view the entire album
Today's Events
Tomorrow's Events

Current Conditions:
Fair, 72 F
Palencia News & Events
November Meetings

Click Here to read the November MCCDD meeting summary. Click Here to read the November POA meeting summary.

Palencia Ladies Day Out
December Outing
Make Your Own Holiday Centerpiece
Thursday, December 11th

Click Here to RSVP.

Wildlife Sightings in Palencia

Click Here to see where the most recent alligator sighting was in Palencia.

Reminder:

Please be a responsible pet owner. Please click here to view our Responsible Pet Ownership Notice.

Palencia Classifieds /
Lost & Found

Click Here to view items that your neighbors are selling, and post Lost & Found items.

It's free to post an item, just make sure that you're registered on the website. If you aren't registered yet, click Here.

4Palencia Social Activities

4Palencia, a newly formed community group, introduces 9 resident-run interest groups. Click Here for the list of groups and how to join.