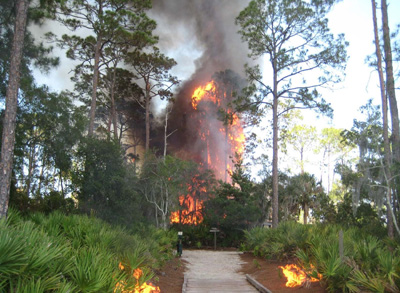 RESIDENT VIGILANCE IS NEEDED
Thanks to at least two civic-minded Palencia residents who noticed smoke on the island toward the end of the Tolomato River Boardwalk on Sunday, November 24th, and reported the fire to St. Johns County Fire/Rescue, the potential for a second disastrous fire at the Boardwalk islands was avoided. All Palencia residents are requested to be especially vigilant in looking out for smoke or other evidence of fires when walking the Boardwalk. If you see anything of concern or witness suspicious activity, please contact the following authorities / agencies, in the order listed below:
If you see plumes of smoke or any sort of flame, call 911 immediately. Should you witness suspicious activity, depending on the urgency of the situation, call either 911 or the non-emergency number at the St. Johns County Sheriff's Office, 904-824-8304.

A follow-up call to whichever Controlled Access Guard House you live behind, if applicable, should be contacted next, to alert the Security Officer to expect emergency vehicles through their gate:



• South Loop Guardhouse (Tolomato River Boardwalk-side): (904) 599-9145
• North Loop Guardhouse: (904) 819-0006



Lastly, please contact the Palencia Property Management Office at 904-810-0520, to alert them of the situation. If the situation occurs during normal business hours, the management team can send resources directly to scene. If after normal business hours, please leave a message.



As a reminder, open flames of any type, as well as alcoholic beverages, are not permitted anywhere on the Boardwalk system.

Thank you for making Palencia a more wonderful and safer place to live.